Bartenders Guide: Deciphering German Wine Labels
German is just not a fun language for me. When pronounced correctly, I feel like I'm about to cough up a furball. Of course, when it's spoken by a statuesque Frau, it sounds a little better. German wine used to be renowned for its quality, but years of war and division eventually took their toll until it became synonymous with the overly-sweet, mass-produced Liebfraumilch. (pronounced: leeb-frow-milk)
In recent years, however, Germany is making a strong comeback. Some of the finest white wines in the world are produced from grapes grown along the Rhine and Mosel rivers. German Rieslings are the most notable and range from sweet, ambrosia-like nectars to spicy, crisp wines that are a fantastic accompaniment to your next dinner party, depending upon the growing region and when the grapes are harvested, which affects their sugar content.
German reds are a different story. Although the country's predominant red grape is the Pinot Noir, (called Spätburgunder, domestically), the variable German climate does odd and occasionally unpleasant things to this now-familiar varietal. The long, cool growing season often results in a thin, pale and acidic wine, very different from the vibrant and robust California, Oregon and French Pinots that most of us know and enjoy.
I don't want to force my opinions on anybody...there may in fact be delicious German reds I haven't tried, yet...but until I chance upon them, I'm sticking with the whites.
If you look below, you'll see the basic anatomy of a German Wine Label, along with a mini-glossary of some more common terms. It is blatantly copied from other sources, but since it's available in so many places, I've no idea whom to credit. In any event, I'm not here to reinvent the wheel...I'm here to put useful information in one place for you. - Frost
---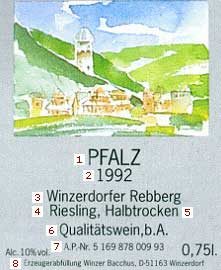 1. Appellation of origin - Wine Growing region
The thirteen German wine growing regions are: Ahr, Mittelrhein, Mosel-Saar-Ruwer, Rheingau, Nahe, Pfalz, Rheinhessen, Franken, Hessische Bergstrasse, Württemberg, Baden, Saale/Unstrut, Sachsen.


2. Vintage
This is the year when the grapes were harvested, though the wine may have been bottled at a much later date.


3. Village and vineyard
This usually indicates the village where the vineyard is located (identified by the -er suffix) followed by another name (often ending in -berg, which means "mountain" or "slope") indicating the vineyard site. Familiar proprietary names like "Liebfraumilch" and "Bishop of Riesling" are not from a specific vineyard, they are a blend of wines from several vineyards.


4. Varietal Grape
Germany's better whites are typically made from:

Riesling (REES-ling)- typically very fruit-driven, (pear, apple and melon flavors are common) and ranging from dry to sweet, usually with a fine acidity.
Gewürztraminer (geh-vurtz-TRAH-meen-er) - Again, can be either syrupy-sweet or spicy, depending upon the vineyard and time of harvest. Typically has very floral, perfumed flavors.
Silvaner (sil-VAHN-er) - Usually lower in acidity and somewhat plain. Often used as a "filler" grape but capable of some fine wines on its own.


5. Level of Dryness
While this often correlates to when the grapes were harvested, this is dependent on the style of the winemaker. He or she may produce a dry style of wine from grapes that initially had a high sugar content.

Dryness levels are not to be confused with ripeness categories which depend on the ripeness of the grapes harvested in the vineyard. The Dryness level on a German label strictly refers to the residual sugar content of the finished wine.


Trocken indicates a dry wine without perceptible residual sweetness. It never contains more than 9 grams of residual sugar per liter and often less. This is very dry and would be my style of choice for pairing with a meal.

Halbtrocken wines are semi-dry and may not have more than 18 grams of residual sugar per liter. Halbtrocken wines are considered "dry" by most wine lovers.

If none of the above dryness levels can be found on the label, the wine is most likely a sweeter style wine, but it can range from off-dry to fully sweet.

6. Ripeness categories
The ripeness categories are Tablewine, Qualitätswein and Qualitätswein mit Prädikat. Qualitätswein mit Prädikat is further divided into the ripeness levels Kabinett, Spätlese, Auslese, Beerenauselese, Trockenbeerenauslese and Eiswein. These are levels of ripeness at the time of harvest and usually strong indicators of a finished wine's residual sugar level.


7. AP Number
The AP NR. or "Amtliche Prüfnummer", is the "official approval number" and identifies the wine and is required for all qba and qmp wines. It consists of several blocks of numbers identifying the wine like:

5 169 878 0009 93


5 stands for the testing center, where the wine was approved
169 stands for the village in which the winery is located
878 is the code number for the winery
0009 93 indicates this is the 9th wine tested in the year 1993 (this is not necessarily the vintage and in fact is most often a year after the vintage)
This coding enables the official testing centers to identify a wine. If there is any complaint or doubt of authenticity of the wine, wineries are required to keep sealed bottles of each production run for a number of years so that they can be cross checked and tasted to investigate.


8. Producer or Bottler
Name of producer or estate, in this case the producer is Winzer Bacchus.


There are about 100,000 grape growers in Germany, yet only about one fourth as many wine producers. If the label indicates "Erzeugerabfüllung" (estate bottled), it assures you that the grapes were grown and the wine was produced by the same grower or cooperative of growers, called "Winzergenossenschaft".


As an alternative to "Erzeugerabfüllung," estates and growers which grow, produce, and bottle their own wine can use the term "Gutsabfüllung" on the label. The grower or collective group of growers is responsible for and guarantees the quality of the wine. Sometimes the bottlers or shipper will assume responsibility and will be identified on the label as "Abfüller".
Quick glossary of German Wine Terms:

Kabinett (pronounced cab-bee-net): this is the first harvest of the vintage. The grapes are semi-ripe to ripe, and the wines will be dry and have more perceivable acid levels.


Spätlese (pronounced schpayt-laze-ah): this literally means late-pick and is the second and riper harvest. These wines will have riper fruit flavors but should still maintain a strong acidity.


Auslese (pronounced ows-laze-ah): this literally means out-pick. Auslese wines are the ripest clusters from a late harvest. These grapes are selected to be vinified and bottled separately. Auslese wines are meant to represent the cream of the crop.


Trocken (pronounced troh-kin): indicates a fully dry wine.


Feinherb (pronounced fine-erb): a relatively new descriptor indicating a drier-style wine.


Dessert (fully sweet) wine designations:


Beerenauslese (pronounced bear-in-ows-laze-ah): very ripe selected berries.


Trockenbeerenauslese (pronounced troh-kin bear-in-ows-laze-ah): extremely ripe, dried, selected berries.


Eiswein (pronounced eyes-vine): frozen berries with ripe, concentrated juice.